How to Develop A Website From Scratch using WordPress
Are you looking to develop a WordPress website? Developing  a website using WordPress is very ease and it does not require a lot of time or money. In this article, we will show you how to develop your first WordPress website.
Why WordPress?
WordPress is the world's most popular open source content management system. It allows you to develop great websites in a short time.
About 22% of all websites are powered by WordPress. It generates thousands of job opportunities around the world, and there are millions of websites making money using WordPress.
Apart from the economic opportunities, WordPress enables people to share their stories, ideas, build communities and do awesome things.
What do I need to start develop WordPress website?
Developing website using WordPress is easy, you would need some very basic search skills (i.e know how to Google), and the ability to follow instructions.
No HTML or other programming language knowledge need to develop a website.
Many skilled WordPress users started from scratch just like you. In fact most WordPress users don't know how to write code or design websites.
This guide is useful for users of all ages and skill levels. However, if you need help, then you can contact our expert team to help you setup your website for free.
→ Click Here to Get Your Free Website Setup! ←
Here is an overview from start to finish of all the steps we'll walk you through in this guide.
Setup
How to find and register a domain name for free
Choosing the best web hosting
Install
How to install WordPress
Installing a template to change your site's design
Customize
Creating pages in WordPress
Customizing WordPress with addons and extensions
Master
Resources to learn WordPress and get support
Start building websites with more features
Let's start…
Step 1. Setup
One of the most common mistakes every developer make is choosing the wrong website platform. As log as you are here you will not be making that mistake.
For most users, a self-hosted WordPress.org site is the perfect solution. For more on this topic, please see our guide on why you should use WordPress. WordPress is free for anyone to download and use to build any kind of website without any restrictions.
WordPress is free because you'll have to arrange your own domain name and hosting, which costs money. A domain name is your website's address on the internet. This is what your users will type in their browsers to reach your site (For example, calarax.com or facebook.com).
Next, you'll need website hosting. All websites on the internet need hosting, this will be your website's home on the internet.
A domain name typically costs $12.17/year and hosting costs start from $2.99/month.
This is expensive for most people who are just starting out. Thankfully, Godaddy, offer users a free domain name and up to 50% off on web hosting.
Godaddy is an American publicly traded Internet domain registrar and web hosting company.
Let's go ahead and purchase domain name and hosting.
First, you'll need to go to the Godaddy website in a new browser window and click on the Orange 'Get Started' button.
This will bring you to a pricing page where you will need to choose a pricing plan for your website. Deluxe and Ultimate plans are the most popular choices among our users.
You'll need to click the radio button to choose the plan that you like and scroll to the next step.
On the next screen, you'll be asked to select a term length. Term length is the time a website domain or hosting plan can be live or online.
Click the radio button to choose the term length that you like and scroll to the next step.
You'll be asked to choose if you need a website backup and restore.  This service automatically backs up your entire website, every day. If anything ever happens to your files, you can restore them with a single click.
You'll need to click the radio button to choose  and scroll to the next step.
Then secure you site from malware and keep your visitors data safe. We recommend to secure your site and visitors from any attempt that would harm them in any way possible. This attract more visitors to your website because of feeling safe.
You'll need to click the checkbox button to choose  and continue to the next step of selecting domain.
Good news Godaddy offers a free domain for any plan selected. Ideally you should stick to a .com domain name. Make sure that it is related to your business, easy to pronounce and spell, and easy to remember.
After choosing your domain name, click on the next button to continue.
Now you'll be asked to signup and provide your account information such as name, address, email, etc.
Next, you will add your payment information to finish the purchase.
After completing your purchase, you'll receive an email with details on how to login to your web hosting control panel (cPanel).
This is your hosting dashboard where you manage everything like getting support, setting up emails, etc. Most importantly, this is where you'll install WordPress.
Step 2: Install
Installing WordPress on your hosted domain using cPanel
From the cPanel home page, in the Web Applications section, click WordPress blog.
Click Install this application.
Complete the following fields, and then click Install:
You will be asked to select a location to install WordPress – is a combination of a domain and a directory that together determine where the files will be installed and where the application will be viewed in a web browser after installation. But If you want to use WordPress as the website for the domain you selected in the Domain field, make sure the Directory field is empty. If you enter a word in the field, that is where WordPress will be installed, and the web address (URL) for the site you create will include the directory name. For example, if you type blog in the Directory field, the web address for your WordPress website will be mywebsitedomain.com/blog.
Select the version of WordPress to install.
Settings – There are number of options here that are automatically generated for you. It's important to note them because they include the username and password you will have to use to log in to your WordPress site.
After completing the form you can now click install and wait until the installation complete.
How to Log in to your WordPress website Dashboard?
To use WordPress, you need to log in to the WordPress Dashboard. No matter how or where you set up WordPress, you use the same URL to log in:
http://your WordPress domain name/wp-admin
Enter the username and password you created when installing WordPress through cPanel and click Log In. This will open your WordPress Dashboard.
If you can't remember your login info, you can reset your WordPress password.
How to reset your WordPress password in case you forgot?
You can recover your WordPress password from the login screen. If you know the email address and your username, you can request a reset email be sent to you.
Navigate to your WordPress login page. http://your WordPress domain name/wp-login.php
Click on the Lost your password? link.
Enter your username or email address into the field.
Click Get New Password.
Check the email account for the password recovery email.
Open the email, and click the password recovery link.
Enter your new password, and click Reset Password.
You can now login with your new password.
After log in to your website dashboard, the new website is going to be ready for the customization, WordPress comes with the pre-installed theme.
What is a WordPress theme? – "WordPress Theme is a collection of files that work together to produce a graphical interface with an underlying unifying design for a weblog. These files are called template files.
A Theme modifies the way the site is displayed, without modifying the underlying software". They provides all of the front end styling of your WordPress site. Most WordPress themes provide: the overall design or style of your site.
When you successfully installed WordPress to your domain, you now have a chance to choose a theme.
Once you're in the dashboard, you've got access to over 2000 free themes! Just look along the side bar for "Appearance", then click "Themes".
If you want more of a professional or elegant theme than what you find in a free theme panel, you can browse through our best listed themes from different categories ( eCommerce themes, Magazine blog and news themes, Restaurant themes, Directory and Listing themes and so mach more) or you can head over to ThemeForest.net where there's a HUGE library of themes to pick from at varying costs.
But before that, It is better at least you spending some time browsing the free themes. Many of them are actually really professional and well made.
After you have found a theme you like, install it by clicking "Install" then "Activate". You can preview each theme, so you don't have to commit to one until you're sure it fits your style.
Changing themes won't delete your previous posts, pages and content. You can change themes as often as you want without having to worry about lose what you've created.
Installing Plugins to your WordPress Website
What is a plugin?
According to Codex  "Plugins are ways to extend and add to the functionality that already exists in WordPress. The core of WordPress is designed to be lean and lightweight, to maximize flexibility and minimize code bloat. Plugins then offer custom functions and features so that each user can tailor their site to their specific needs".
Just like themes to install plugin you just look along the side bar for "plugins", then click "Add new". Browse hundreds of plugins that suit your need and are recommended for your theme.
After you have found a plugin you like, install it by clicking "Install" then "Activate".
Step 3: Customize
How to add content and create new pages?
With your theme installed, you're ready to start creating content. Let's quickly run through some of the basics:
Adding and editing pages
if you want a "Home" page, or an "How to" page (like on my menu at the top of the site)?
Navigate the sidebar in the WordPress Dashboard for "Pages" -> "Add New".
Clicked, and a screen that looks a lot like what you've maybe seen in Microsoft Word. Add text, images and more to build the page you want, then save it when you're done.
Adding pages to the menu
If you want your new page to be linked to in your navigation bar,
Save any changes you've made to the page by clicking "Update"
On the sidebar of the WordPress Dashboard Click "Appearance" -> "Menus"
Find the page you created and add it to the list by clicking the checkbox next to it and then "Add to Menu".

Adding and editing posts
If you have a blog on your website, "Posts" will be where you turn to next. You can use different categories to group similar posts.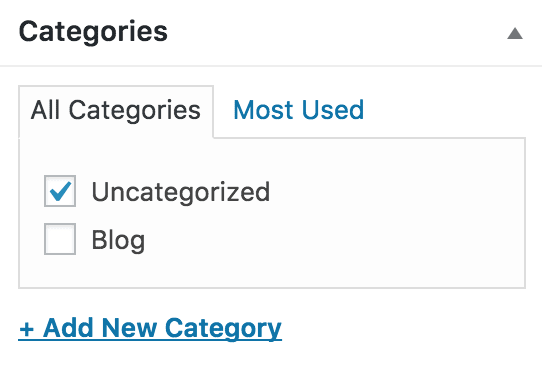 If you want to add a blog to your website, you can use different categories and posts. Let's say you want to create a category named "Blog".
To do so, simply add it to your menu and start making posts.
Here's what you need to do:
Create a new category by going to "Posts -> Categories"
OR:
Create a blog post by going to "Posts -> Add New". Once you've finished writing your blog post, you need to add the right category for it.
Once you've created your category, simply add it to the menu, and you're in business!
More Customization
In this section I'll cover some of the basic things I'm asked about all the time that will help you to tweak your website.
Changing Your Title and Tagline
Page titles explain to searchers what your website is about, and they're also a big part of how search engines determine your rankings, so you want to be sure they've got the keywords you want to target in them (but in a natural way, written for real people).
You should use a unique title on every page of your site. For example, my site's title is "How to Make a Website".
(Can't find it? Just hold your mouse over the tab at the top of your web browser).
Taglines are added at the end of titles across every page. My site's tagline is "How To Develop A Website From Scratch Using WordPress."
In order to change the title and tagline on your website, go to "Settings -> General" and fill in the form below:
Setting Up a Static Front Page
A static page is a page that doesn't change. Unlike a blog, where the first new article will show up at the top every time, a "static" page will show the same content every time someone comes to the site – like a home page you've designed.
To set up a static front page:
Go to "Settings -> Reading"
Choose a static page that you have created. "Front Page" denotes your home page, "Posts page" is the front page of your blog (if your entire site isn't a blog).
If you don't choose a static page on your own, WordPress will take your latest posts and start showing them on your homepage.
Editing sidebar
Most WordPress themes have a sidebar on the right side (in some cases it's on the left).
If you want to get rid of the sidebar or edit out items you do not need like "Categories", "Meta" and "Archives", which are usually pointless, here's how:
Go to "Appearance -> Widgets" in the WordPress Dashboard.
From here, you can use drag and drop to add different "boxes" to your sidebar, or remove the items you don't want.
There's also a "HTML box" – a text box where you can use HTML code. For beginners, don't worry about this bit – just drag and drop the elements you'd like in your sidebar.